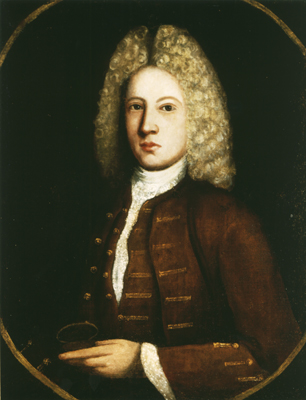 He was born in Batiscan, Quebec on December 10th 1698, the second son of  Ignace Gamelin and Marguerite Lemoyne.  Marguerite's sister Marie-Charlotte was married to Mathurin Guillet - his aunt and uncle!! The family had moved to Montreal by 1722(?), but probably lived in rented quarters.  Ignace Gamelin, senior is not listed as a house-owner in the census of 1731.  It was not until 1732 that his son Ignace began building his own house.

Evidence is lacking to distinguish Gamelin, senior from his son of the same name, who played an important role in the commercial life of the colony.  He was a wealthy merchant involved in an export import business between Canada and France. It would be natural to presume that since the son did not reach his majority until 1723, documents signed "Ignace Gamelin" before that date should concern the father.  However, a verification of the signatures indicates that the son entered contractual obligations before his majority.

Ignace Gamelin, son married Marie Dufrost dit Jemmerais in Montreal on January 31st 1731.  His sister-in-law, Marguerite was married to Francois d'Youville.  When her husband passed away at the age of 30, Marguerite d'Youville founded the Sisters of Charity - the Grey Nuns congregation.  She is now a saint in the Catholic church!!

... Mathurin Guillet's connection to Sainte Marguerite d'Youville - a classic six degrees of separation!  ... BUT we do have a blood tie!  Mathurin's brother, Louis was married to Marie Trottier (my direct line).  Her maternal grandmother was Marie Boucher, the sister of Pierre Boucher.  He was Marguerite d'Youville's maternal grandfather!!